Mike and I enjoyed some time out of the house Friday night with the baby. It was First Friday! We have many First Friday's around Oregon. You just need to pick one. Shops stay open later. Wine is served. Appetizers. It's just a good time. And, to top it off: no rain. Rain wouldn't normally stop us…. but, things are different with a baby.
I put on some real clothes. No pajamas tonight! 😀
We ended the night with a drink at the Lucky Lab (it's a pizza place if you're wondering). Then, we headed home. Ruari pretty much passed out right after we got her in her jammies. Busy night for her!
By the way: Ruari was sucking her thumb last night! She fell asleep with her thumb in her mouth. She is so addicted to her pacifier and she hasn't ever really liked her thumb… Hopefully she'll be able to soothe herself a little better with that thumb! Instead of searching for her pacifier.
Linking up my weekend for Manic Monday!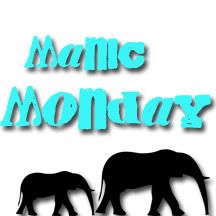 My Pick on Monday
:
Monday through Sunday hair clips
.
How many of you reading this didn't know it was Monday until you read "Monday's My Pick" right above this sentence? Well, look no further! Your baby can be your calendar! Hee. These really are SO cute! I found some Monday to Sunday hair clips in the Etsy shop:
Chic Baby Rose
We are trying to put hair clips in Ruari's hair each day to get her used to it… she really needs her bangs cut… but, I don't know how that will turn out since she doesn't like us touching her head/hair! 😀
Don't forget to create your holiday card for my Holiday Card Challenge! Three winners will be chosen by a panel of judges by December 6th, 2010. Here's a list of the sponsors for the competition (I will post a detailed list of the prizes later today):
SeamsMod
Pink Lemonade
Navy Blue Notes
Eclectic Whatnot
Circles Are Forever
Pear Tree Greetings
Big Heart Baby
Mama with Love
Life Without Plastic
Crafty Working Mommy
Beba Bean
If you think this holiday card challenge is awesome, could you vote for me? I'd love it.
Would ya could ya? Vote for me?