Shutter Love Tuesday: Cakes
"C" is for Cupcake!


Perceptive Perspective: Feet
Show and Tell at Paper Heart Camera: Beauty in you everyday…
I took this photo for my Simplicity photo class. I LOVED the speckles on this nectarine. Then I cut into it… I loved the contrast of the inside of the fruit to the deep red skin. And, sitting on this white plate REALLY makes it pop!


Touch Up Tuesday:
Shoot and Tell: Bounce
Tell:
So, she's not bouncing in this photo… BUT, she LOVES her bouncy. She has a bouncy at my Mom's house and at home. She'll hang out in her bouncy for a good hour! As long as I sit next to her. 😀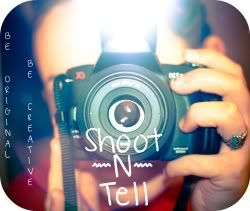 In a Yellow House: Machines


Simplicity: Mood
I was in a silly mood.
The Wishful Lamb: Cool Cats
Would ya could ya? Vote for me?