Tuesday has SO many photo blog hops. Here they are!
This weeks theme at Trendy Treehouse is: Sports. Hee… I'm not really a sports kind of girl. The closest I got to playing a sport was powder-puff football my junior and senior year of high school. I only had to play the 2 games. So, maybe Ruari will like sports… we'll see. Mike likes them! Her auntie in Washington thought that Ruari had WAY too many bows and not enough ball caps (well, she had zero). So, she bought her a mariners hat.
Sweet shot Tuesday: What does summer mean to you? It means: watching my baby play Sophie in her little ducky pool!
Hello to everyone on Tuesday Tag along and Tuesday Following.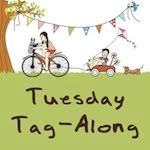 Little reminder:
– Don't forget to vote for your fave photo! Ends Friday!
– Enter this weeks photo challenge: Absolute Favorite! Last day: Friday!
– AND: win some personalized cards. Ends Friday!
– Ask Alabaster Cow a question! Before Saturday!
The numbers have been reset! Help me get in the top 10! I ♥ you!