Driving to Washington on Tuesday…
We arrive to our destination to find leftover snow on the ground!
AND, to my VERY excited eyes… we wake up on Thanksgiving day to snow falling! I LOVE snow. Ruari has never been in snow. It DID snow last year on December 29th… But, Ruari was about 10 days old and had no idea what was going on. Snow sort of made everything a pain that day…. 4 hours to go a couple miles. Mike got home from work after driving 6 hours.
Ruari really wasn't too impressed with the snow… mostly just annoyed with the 50 layers we put on her! Do you like her jacket? I LOVE it. I found it at a little thrift shop by my house for $5.
For Thanksgiving dinner… Ruari tried turkey for the first time ever! Her first taste of meat. She really likes it (Ummm…. I'm not too sure I'm liking how horrible it makes her poo though!). Look at her cute outfit!
She wasn't too sure about the Turkey at first….
BUT, she quickly decided it was awesome!
Mike and I like to wander the malls on Black Friday. Not so much on the shopping part… more on the people watching part! This was Ruari's first year joining us!
Yeah… of course we had to stop for cupcakes! Man, I need to start working out.
Then… Mike and I got to go out for a couple of hours while his parents watched our screaming sweet baby.
That's ALL folks! I really hope you all had a lovely weekend as well!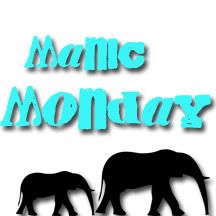 A couple deals for you for this Cyber Monday only!!!:
…………………………
Tiny Prints: 10% off $99; 15% off $149; 20% off $199. Code: CYBERMON
And, if you all have a moment… can I get a vote?
If you think my blog is neat. 😀
AND AND AND…. the Holiday Photo/Card challenge ENDS this Friday! It's your last day to enter! TONS of wonderful sponsors have donated their goodies for you to win! Enter here:
Would ya could ya? Vote for me?