Soooo, it's been a crazy morning already at the Paper Mama home! Oh man. Ruari pooped ALL over herself and then rolled around in it. Of course. Then… as I was changing her she kept grabbing all her poopy mess! So, we've already had a bath. We had a very similar poo explosion last Friday. Hmmm. Maybe it's the peaches?
AAAAAnnnndddd…. now for MORE crazy! I think I did it! I've lost my mind. I've participated in an INSANE amount of photo challenges… I'm feeling a bit like Ashley... 😀
Show and Tell @ Paper Heart Camera: A day in your life.
Just a little snapshot of my life. Everyday of my life this is it. My baby. I know I made it through all the internal bleeding and badness from her birth to take care of my baby.
Touch up Tuesday:
Simplicity's Photo Challenge: Water
In a Yellow House photo challenge: Art
Hmmmm… I feel like I've entered this photo before. I can't remember. 😀
Shoot 'n Tell @ The Franklin's: Up
So, the theme is "up". This was Ruari a couple weeks ago. Still up. She would not nap!!!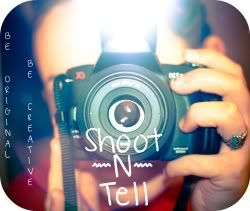 Shutter sisters: Simple Beauty
Wishful Lamb: Soul Mates
BEEP BEEP CLICK:
I'm flashing back a little for this one. I just didn't take any self portraits that I liked this week. 🙂 I was about 7 months pregnant here. 😀
Would ya could ya? Vote for me?