Monday's My Pick:
Wow, these dolls are VERY cute. I want this one for Ruari:
Ok, so she probably doesn't really care if I get this doll for her or not, but I think it would look cute in her room. 😀 That's a good reason to get one right? Please check out TaDa! Creations for more sweet dolls! And, don't forget to check out the blog too!
So, we did a little "photo shoot" for Ruari's 7 month birthday and to get ready for the I heart faces challenges this week: Over My Head.
So, the picture of me on the right there was the original photo I took for the Over My Head challenge. Hee. Math is WAY over my head!
Please, have a lovely Monday! AND, don't forget to link up your Manic Monday (I do Manic Weekends because my Monday nights are always too crazy to blog!):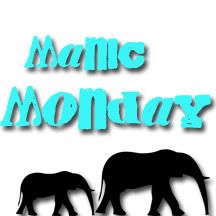 And: I'd like to offer anyone that would like to advertise on my blog the rest of

July

for free

: if you purchase ad space for the month of August. You can click here for more details. I REALLY love handmade shops SO I do give a discount for Etsy shops (or any handmade business). 🙂 Check it out! AND, if you have any questions please e-mail me. I do get a little busy with my crazy little babe and may take a little long to respond. I still ♥ you!
The numbers have been reset! Help me get in the top 10! I ♥ you!