Thank you to Kraft Foods for offering me the opportunity to recreate a recipe with PHILADELPHIA Cooking Creme. Please click here to learn more about all the PHILADELPHIA Cooking Creme flavors and recipes.
……………………………………………………………………………………………………………………………………………………………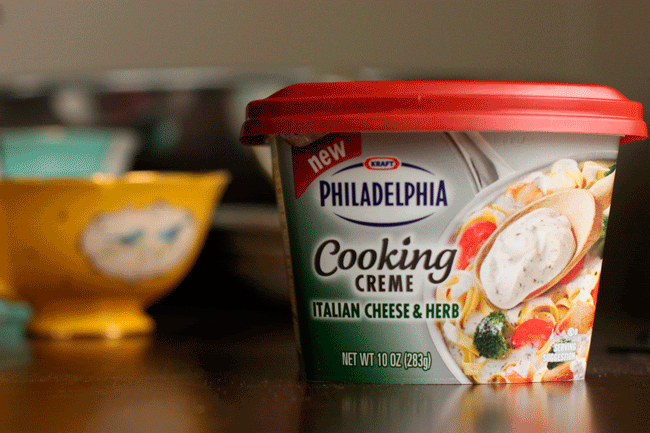 So, who else is not a fan of cooking? Yup. Me either. My idea of cooking dinner is making a BLT or cooking some eggs. Ha! Yes. I like simple and easy meals if I have to cook. Ok, so Kraft sent over their new PHILADELPHIA cooking cream to try out. And, I was definitely all about trying this out. I feel bad that my poor hubs cooks all the meals…. but, then I remember I don't know how to cook and it usually doesn't taste good when I try. But, goodness… you just put everything I need to add flavor to a meal in one little package: I think I can handle it!
This is how I made dinner last night! I took on this challenge and whooped it in the buns. I made a super yummy meal for my family and it was actually delicious. Plus: it was so freakin' simple you guys. I mean siiiimpppple. I really believe this will be a keeper for our family. The cream was so easy to use.
Ok, since it was soooo delicious. I wanted to share the recipe with all of you. Most of the ingredients are probably already in your home. And, the cooking cream is reasonably priced. ::high fives::
Baked Penne with Beef
Prep Time: 5 min. | Total Time: 35 min. | Makes: 6 servings.What You Need:
½ lb. extra-lean ground beef (we substituted italian sausage)
½ cup each chopped onions and green peppers
1 jar (24 oz.) spaghetti sauce
1 tub (10 oz.) PHILADELPHIA Italian Cheese and Herb Cooking Creme, divided
1 cup KRAFT Shredded Mozzarella Cheese, divided
3 cups cooked penne pastaMake It:
Heat oven to 350°F.
Brown meat with vegetables in large nonstick skillet. Stir in spaghetti sauce, 3/4 cup cooking creme and 1/2 cup mozzarella: cook and stir 2 to 3 min. or until mozzarella is melted. Add pasta; mix lightly.
Spoon into 2-qt. casserole; top with remaining cooking creme and mozzarella. Cover.
Bake 20 min. or until heated through, uncovering after 15 min.Substitute
Substitute Italian sausage for the ground beef.Substitute
Prepare using your favorite flavor of spaghetti sauce, such as mushroom or garden vegetable.Serving Suggestion
Serve with a crisp mixed salad tossed with your favorite KRAFT Light Dressing.Nutrition Information Per Serving
370 calories, 15g total fat, 7g saturated fat, 990mg sodium, 37g carbohydrate, 22g protein
– Chelsey
……………………………………………………………………………………………………………………………………………………………
Thank you again to Kraft Foods for sponsoring this blog post. I was selected as one of 20 bloggers by Technorati Media and Clever Girls Collective to participate in the Kraft Foods PHILADELPHIA Cooking Creme signature recipes campaign. While I have been compensated for my time and received the product, my opinions and experiences are my own.